Travel Help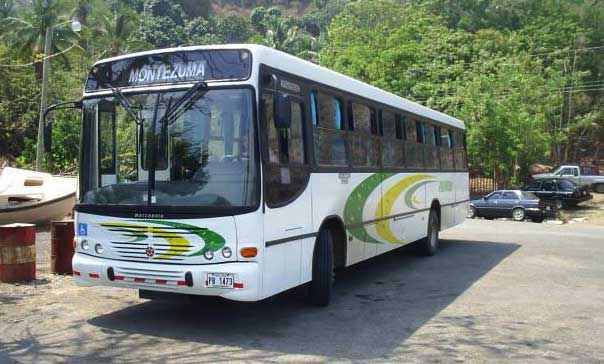 Juan Santamaria International Airport, also known as San Jose Airport, or SJO, is situated about 20 minutes outside of the capital city of San Jose, Costa Rica. Most of the International flights arrive in this airport. Rancho Delicioso, an 8 Hectare (20 acre) property, is in the center of the Southern Nicoya Peninsula between the towns of Santa Teresa, Malpais, and Montezuma. You can reach Rancho Delicioso in many ways including:
Domestic Flight & Taxi
Shuttle
Bus & Taxi
Drive a Rental Car
Requirements for Travel to Costa Rica
While traveling to Costa Rica, travelers MUST have a passport with at least 30 days of validity after the date of entering the country. Travelers are also recommended to have a printed copy of return ticket that is scheduled within 90 days from the arrival date. Travelers may be required to buy a flight out of the country if they don't have proof that they're leaving with 90 days.
If you're planning on staying for more than 90 days, you'll need to go up to the Nicaragua border and return after 3 hours. This will take you all day to do it, maybe requiring to spend one night along the way.
If you visit a country with Yellow Fever, such as Colombia, then Costa Rica will require you to have a proof of vaccination to get into the country. At Anamaya we have had it happen where people scheduled for a retreat or YTT couldn't get into Costa Rica because of this. Please be aware of this!
For some specific countries, there can be additional requirements, so before traveling it's better to check for any special rules.
When leaving, travelers will have to pay a departure tax of $29 at the San Jose airport. This departure tax can be paid in CRC, USD or most credit cards. Many flight tickets now include this $29 so it depends on the airline.
Travelers need to go to the ticket counter before departing from San Jose, even already they have checked in online and don't have bags to check.
Plane & Taxi Combo from San Jose Airport
Sansa and Nature Air are the two airlines that fly here. It takes only 30 minute air travel to reach our local airport in Tambor. From San Jose and it will cost $75-$105 (each way). There's no flights from Liberia airport to Tambor. After reaching Tambor, you can take a taxi with a 30 minute scenic ride for $40.
You can't always get the flight you want right after you arrive, in which case you can stay in a hotel near the airport for a night.
Nature Air

Nature air has a ticket counter set in the middle of the other International airlines in the main building. After flying in, go through immigration, pick up your luggage and clear customs. Then go outside and across the street you will find the parking garage from where you go upstairs or elevator and reach the main level. There you will find the ticket counters and check in. After going through security you will go to the gate. It is recommended to check in no less than 1 hour before you depart. While you can buy a ticket here, of course it's much better to try to book this in advance.

Nature Air allows more limited luggage than Sansa. However, in other respects it tends to be a better run airline with fewer complaints.

Sansa

If you're flying with Sansa Airlines, you must leave the International Airport and walk to the left, to a smaller building about a block away, where you will find the Sansa ticket office. There you can book Sansa air ticket to Tambor. This airline allows a limited luggage.
You can also ask for a rental car waiting at the airport in Tambor. It will make your journey more stress free and you will not have to worry about navigating the whole journey. It's better to rent a 4×4 car as it will be perfect for the adventurous roads.
Shuttle Service
Shuttle service is provided by Montezuma Expeditions and is around $50 from the airport to the farm. You will should sign up for this group shuttle by email ahead of time. You will get a confirmation email and they'll provide you details of how it works.
From the airport to the ferry in Puntarenas, it takes 90 minutes. You will get your tickets from the shuttle driver who will also help you board the ferry. You carry your luggage onto the ferry and another shuttle picks you up on the other side. The ferry ride will also take about 90 minutes. The ferry is fun and you can sometimes see dolphins, whales or other sea life.
On the other side in Paquera, you will board another shuttle with which you will reach amazing Nicoya Peninsula area. And from Paquera it will take another one and half an hour ride to reach Rancho Delicioso.
When returning, the pick-up time from Rancho Delicioso is 7am in high season and 9am in low season. You will reach San Jose International Airport between 12 and 12:30 pm or 2 and 2:30 pm. Keep in mind that you must arrive a minimum of 2 hours before your flight leaves.
Direct Bus:
You can also choose the direct bus service from San Jose to Montezuma (Ph# 2642-0219). Each day this direct bus leaves from the Parada de San Carlos (5 cuadros al norte de iglesia de la Mercedas) at the time of 6:00am and 2:00pm. in downtown San Jose. For enjoying this bus service, you will have to pay $12 US. From the International airport, with a taxi ride you can reach the bus station. It costs $20 and you will reach within 20 minutes to the bus station. It takes total 5.5 hours with the bus trip. During this bus ride, for taking rest the bus will stop at a station between San Jose and Puntarenas. After reaching Puntarenas, you can get off the bus and the collect your ferry ticket and a laminated card from the driver. That card will allow you to back on the bus. With other travelers you will get onto the ferry and enjoy a half an hour ferry ride. During this ferry ride you will cross the gulf and will disembark in Paquera. After reaching the other side of the ferry terminal, follow the passengers to re-board the bus and continue the journey to Cóbano. Passengers who are going to Montezuma they will switch to another bus in Cóbano. By this bus riding within 20 to 30 minutes you will reach the Montezuma area. If you inform about your arrival time, you will find a taxi waiting for picking you up at the bus stop in Montezuma and it costs $5-6.
Rental Car & Ferry
If you don't want to book a taxi earlier, you can rent a car and drive instead. If you rent a car, you will not have to spend much more than the shuttle if you have two or more people. But if you don't have experience in driving in Central America and don't know enough Spanish to ask about directions, it will not be a good decision to rent a car. Including the ferry riding duration, it takes about 5 hours. Driving a renting car is quite an adventure as you will not find any road signs. You can get GPS from most of the rental companies at will make your driving a bit easier. Be careful about your budget or dollar as there are many renting companies which hide some fees, especially insurance and also their fees are very upfront and also they have two local offices so they are a good bet. While you are at Rancho Delicioso, you won't need the car so it will be unnecessary to keep the renting car. It is better to drive to the Puntarenas ferry from the airport in 1.5 to 2.5 hours.
If you want to save an hour of driving time, you can take a new shortcut from San Jose to Caldera and by using this superhighway you can get to the ferry rapidly.
As you will not find any road sign, you can follow this driving instruction:
From the airport start driving on the main freeway (Interamericana) and keep driving until you see an exit for Atenas. Take that exit and then cross over the freeway to the left. After driving about 2 km you will find a soccer field and a blue school and between those turn left. You will not find any road sign for the freeway and if you get lost, just ask about "La Pista por Caldera". Then keep driving for 3.5 km. You will find an overpass and don't drive to under and turn left just before the freeway. You will reach the onramp and after getting on that head west (right) again. You will reach the main port next to the Puntarenas, Caldera. From Caldera keep driving to the north along the coast. After passing a big development called "La Roca" you will pass up and over the top of the road you want to turn right onto. You will find a sign for Puntarenas covered with tree branches for several years that make it hardly seen. Then make a loop around to the right and get onto this road then head to the west again. Go straight and reach the very tip of the Puntarenas peninsula. Then take a turn to the right and there you will find curve around to the ferry line.
Ferry from Puntarenas to Paquera
There are two ferries from Puntarenas, one of which will take you to the Paquera and another one to Naranjo. Be sure to take the Paquera one. The ferry ride across is only an hour or so. After reaching Paquera, you will have to drive to the left and then head to the Cóbano, which takes around 45 minutes. Take a left turn from Cóbano and head to the Montezuma. From there go south along the beach road and at Hotel Amor de Mar. You will find a paved road up the hill. Keep driving for ½ km you will find the sign of Anamaya on the right that means you are close to Rancho Delicioso.
The ferry ride is about 1.5 hours and it costs 810 colones for adults and 485 colones for kids. If you travel by automobile, the car and driver cost around 12,000 colones. There is an air-conditioned passenger deck in the ferry where you can buy snacks, drinks, and alcohol too. If you come on the sunset ferry you may even find a party on the top of the ferry and it can be a lot of fun with music and dancing. But most rides are more peaceful, and you'll enjoy watching the amazing view of the surrounding area from the large outside viewing area. It is recommended to get on the ferry about 30 minutes before its scheduled time so that you can get a space on the boat for your vehicle. The busiest day is Friday and you should probably be there a couple hours early if it's friday and high season. If the wait time is too long you can always drive around to the north, which takes around 4 hours.
From Puntarenas to Paquera:
6 am / 9 am / 11 am / 2 pm / 5 pm / 8:30 pm
From Paquera to Puntarenas:
6 am / 9 am / 11 am / 2 pm / 5 pm / 8 pm
The ferry schedule changes every few months so it is better to make a call and know about the most up to date info. Call (506) 2661-2084, then press 4 (it's in Spanish.)
Other Options
Private taxi
You can also take a private taxi (with an English speaking driver) that will cost $200 to $250 for all the way. From San Jose or the Airport at any time you can take the private taxi but if your time doesn't match the ferry schedule, you will have to wait for the next available ferry.
Water Taxi
Make a 1 hour drive from San Jose and reach Jacó and from there take a speedboat to Montezuma. The boat departs at 10:30 am. You can also go back with the water taxi from Montezuma at 9:30 am. This is a fast way to go, it's fun, and there's a really good chance of seeing dolphins, manta rays, or sea turtles on the way. You can book this with Cocozuma.
Best Places to Stay Near the Airport
Adventure Inn – $70-80 – http://www.adventure-inn.com/
Flor de Mayo – $60-65/nt – Flor de Mayo is a welcome refuge for health conscious travelers, with a beautiful historic botanical garden, old growth trees, trails, organic farm, fruit orchard, springs, spring fed pool, 60+ bird species, free breakfast, 5 MINUTES FROM THE AIRPORT https://www.airbnb.com/rooms/4155703?s=rsafstc9
Vida Tropical B&B – 38$/nt – "An alternative to cold and expensive hotels." – https://www.airbnb.com/rooms/180442?s=rsafstc9
We Love Your Comments
comments