Costa Rica TreeHouse – Montezuma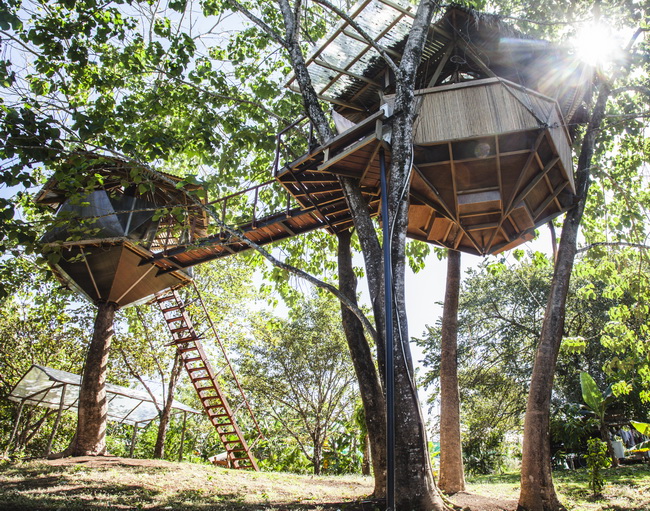 The Sacred Geome-Tree House is now available for you to experience.  It's listed for short term rentals with a 2 day minimum.  The price is $79/night (Nov-April).  Special green season offer: (May-Oct) $69/night, $375/week!  It's a very unique experience and the view is quite amazing.  Please email TreeHouse@RanchoDelicioso.com for more info and reservations.
The tree house is composed of 4 structures, a bedroom, kitchen, bathroom (and a half) and lookout/meditation platform called the Awarenest.  All of the trees holding the structures are Melina trees, a farmed tree used for construction in the area because it grows so fast and is nearly bug proof.
The tree house is fully functional with electricity, running water, flushing toilets, hot shower, plenty of storage space and even a flat screen TV and sound system. To learn more about how it's built, see Icosahedron Treehouse Construction.
The farm and tree house are located conveniently between Montezuma, Mal Pies/Santa Teresa and Cobano.  We suggest having a rental car if possible or plan to pay for taxi's.  For driving directions, please see How To Find Rancho Delicioso, and for more instructions on how to get to the general area, please see Anamaya's Costa Rica Travel page.  Anamaya is just 5 minutes drive toward Montezuma from the farm.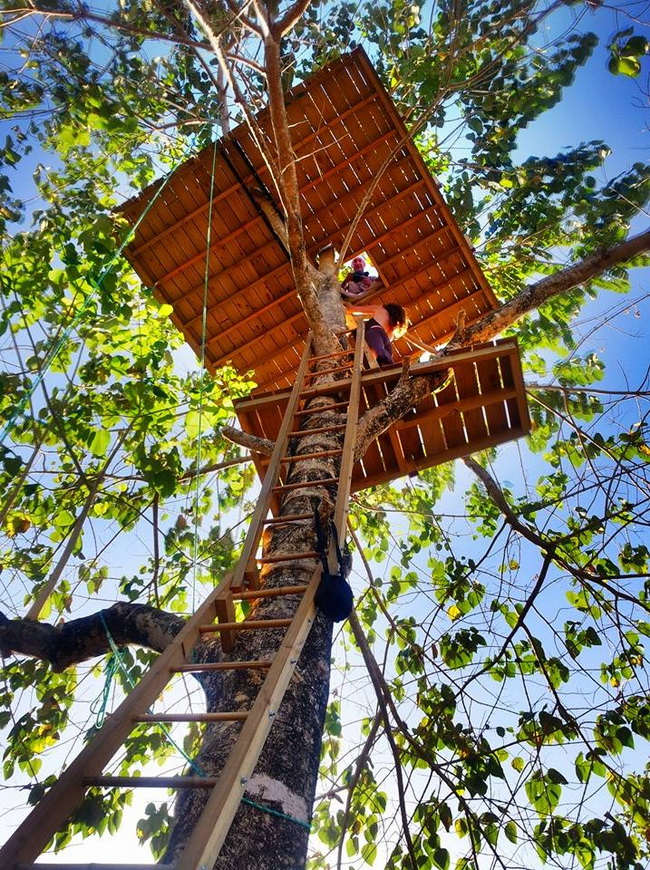 The "Aware-nest" view deck 30 ft (10m) above the ground
The bedroom Icosahedron structure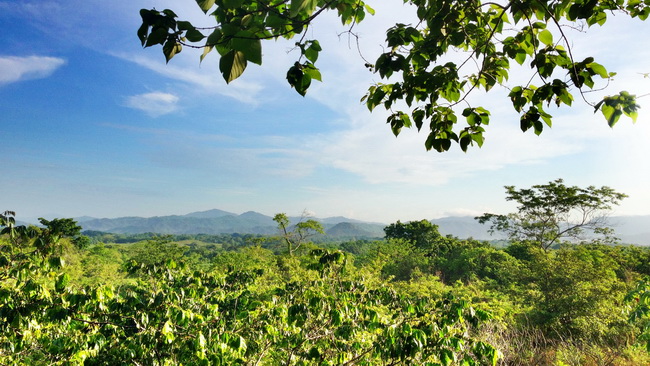 The view from the bedroom
There's a wonderful authentic Italian restaurant located close by, in the middle of nowhere.  Their pizza is amazing and cooked in a wood fired home made earth oven, hence the restaurants name, Tierra Y Fuego (earth and fire).  Generally they are only open Thursday-Sunday and closed for most of Sept/Oct.
You should be able to join some of the community meals at the farm for a small fee if you'd like.
See calendar below, it's available when white. Check in is 2-5pm and guests check out the day after the last marked date on the calendar, by 11am.  Enjoy your stay!
Please email TreeHouse@RanchoDelicioso.com for more info and reservations.  A $50 deposit is required to confirm your reservation.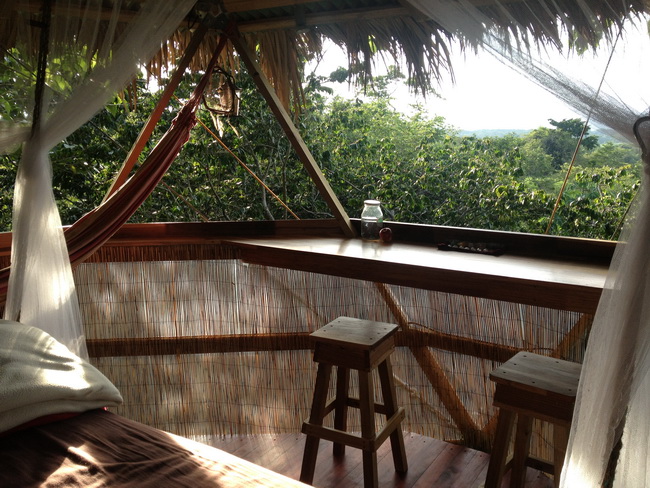 Bedroom desk area

Awarenest yoga and meditation deck with amazing view

Kitchen Icosahedron
Half bath off bedroom